If you enjoy music in an intimate and friendly setting, become a subscriber of L'Ermitage Foundation's Concert Series. We offer concerts where members of the audience can mingle with the artists as well as other attendees. These concerts are private to our donors and their guests and are not open to the public.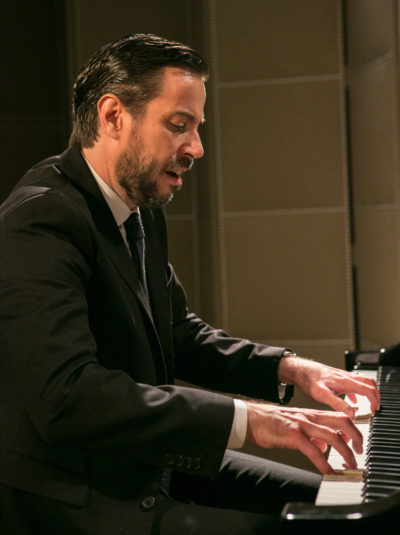 Overland Jazz Quartet
Mark Balling
August 28, 2020
MARK BALLING, pianist, has enjoyed a burgeoning career as a recording artist, teacher, touring musician, and accompanist in Los Angeles. A veteran of the Glenn Miller Orchestra, Mark has also recorded for TV shows, more recently for ABC's The Real O'Neals and NBC's AP Bio.
Luis Mascaro
August 28, 2020
LUIS MASCARO, violinist, is part of a new generation of creative string players who is not afraid of using his solid classical background to explore new musical ideas, techniques and sounds.
Sandro Feliciano
August 28, 2020
SANDRO FELICIANO, percussionist, was born and raised in Sao Paulo Brazil and has been playing drums/percussion for over 20 years. He has worked with many artists going from Brazilian music, contemporary jazz and classical music.
Sherry Luchette
August 28, 2020
Sherry Luchette, classically trained bassist and well-versed in jazz, has performed and recorded extensively with many renowned artists like James Moody, Oleta Adams, Marvin Stamm, and Antonia Bennet.
LOS ANGELES CELLO QUARTET
Ruslan Biryukov
To be determined
RUSLAN BIRYUKOV, founder of the Los Angeles Cello Quartet, is known for his "superb artistry, passion, and individuality". Ruslan represents a new generation of creative professional musicians whose artistic level is recognized not only by awards, but also by a worldwide audience.
Efrain del Pilar
To be determined
EFRAIN DEL PILAR, began his musical journey as a flutist, winning several competitions. Six months after beginning cello lessons, he performed his first cello recital.
Bryant Gozali
To be determined
BRYANT GOZALI began his formal cello training at age nine in China. He relocated to Singapore and was appointed Principal Cellist in two Singapore orchestras. In addition to performing with the Los Angeles Cello Quartet, he performs with the Tokyo Quartet and pianist Christopher O'Riley.
Thomas Lovasz
To be determined
THOMAS LOVASZ began playing the cello at the age of eight and by age fourteen, he had won several regional music competitions. He has performed as soloist, orchestral musician, and chamber musician in many venues from Europe and the United States.